Reservation enquiry
Arrival:

How to find us
Tučepi is a tourist village on Makarska Riviera. You can reach Tučepi: by car by motorway taking the Šestanovac exit then by state road to Tučepi – 35 km or by state road from Split to Tučepi;
by plane: Airport Split. Journey time from Split to Tučepi – 1h 22 min
About us
Hotel Villa Marija is positioned on the Makarska Riviera at the point of the most glorious 3km stretch of beaches of the entire Dalmatian coast.

Hotel Villa Marija is comprised of 30 luxuriously furnished, air-conditioned and centrally heated rooms, all accessible by a panoramic elevator. Each room is equipped with all four-star amenities such as mini-bar, telephone, and satellite TV.

For the convenience of our business customers the Conference Hall accommodates meetings, presentations and seminars of varying sizes.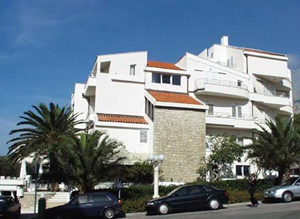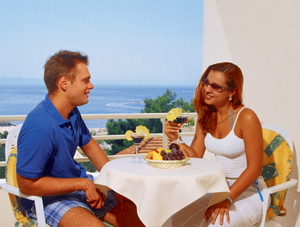 Our restaurant, renown for its Dalmatian specialties invites the gourmand and novice alike to moments of culinary delight, satisfying the most discerning tastes. Cultivated and prized varieties of wines from our Taverna (wine cellar) appeal to the" lovers of wine." Drink as old villagers used to out of wooden
wine mugs called "bukara." On display in the Taverna are photographs and objects from Tucepi of esteryear to help visitors get a glimpse of our heritage.
A panoramic terrace is located on the top floor of the hotel. Sunrises and sunsets from that vantage point take your breath away. The unforgettable view of old villages scattered under the bald Biokovo Mountains, and among them our rebuilt family home, "The Simic Castle", lie in the distance. One will never forget the the visual wonder of sea, mountains and sky merging.
For Hotel Villa Marija's guests we organize a variety of activities including Dalmatian evenings with folk music, fresh fish on an open grill and playing bocci. During appropriate seasons our guests even take part in gathering olives and picking tangerines, if they so desire.
At Hotel Villa Marija the choice is yours to rest or to exercise. The indoor swimming pool with whirlpool jets, sauna, and fitness room fully equipped with exercise machines are at your disposal for unlimited use at your convenience.

Also, for a nominal fee, therapeutic massages are available by scheduling with our skilled staff masseuse. Consider relaxing at our well-stocked bar or enjoying a game of billiards, both located in the lower pool level and available for you into the late night hours.
Fill free time with trips to nearby places such as Makarska, Split and Trogir. Discover the islands of Brac, Havr and Korcula and, of course, the thousands of years old medieval walled city of Dubrovnik.
Hotel Villa Marija provides ideal accommodations for professional athletes and recreational groups, such as tennis, hiking and biking organizations wanting to train in our mild autumn and winter climate. Our entire selection of services are also available then and at even more affordable prices.
Visit Hotel Villa Marija and discover the charm of true hospitality.
Thank you for your interest,
The Staff of Hotel Villa Marija